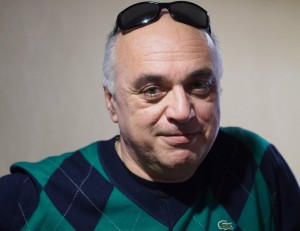 You should all know that we have an amazing coaching staff at CCL I always spotlight the students and never the coaches.  I am now going to let you know a little bit more about the coaches, from time to time. The spotlight is now on IM Goran Vojinovic.  With 2 of his 3 Grand Master norms, Goran is about as high a level IM that you can become.  What makes this really amazing is that Goran has dedicated his life to coaching. For Goran it has always been coaching first and playing a distant 2nd.  Those of you that have him as a coach know how passionate his coaching is.  In this blog, I will highlight references from some of his more successful students:
Testimonials

Grand Master Milos Perunovic - Fide Rating 2633

I have played many tournaments with Goran Vojinovic and my chess instructions with him was amazing. During our chess work, Goran was thorough and always trying to find new ideas and new plans. He is never satisfied with the present, always looking for something new, which of course requires lots of energy and knowledge.
In addition to all the things he taught me, Goran is a great motivator! He encouraged and gave me self-confidence many times before a game.
Goran is an excellent trainer and a real friend to everyone who wants to play and learn chess.
Editor note - Milos qualified for the 2015 World Cup!
Grand Master Borki Predojevic - Fide Rating 2633

I began working with Goran in 1999 while I was preparing for the Junior World Championship in Oropesa del Mar, Spain and shared a 6-12 place up to twelve years. I had previously won the European Championship.
My experience in working with Goran as my instructor is positive. His work quality and access to his students made a long lasting and positive impression on me and my family.
He has the ability to openly and professionally work with his students (which is most important in working with young players.) As proof of this, many of his students have earned international titles and have become members of national teams.
As a player, Goran is known to have a solid and rigid style of playing. He has a great positional understanding and that is permanent chess knowledge that he shares with his students.
Grand Master Boban Bogosavljevic - Fide Rating 2525

I met Goran in 2000 at an Open tournament at Vrsac, Serbia. Soon after, we agreed to start working together. From 2001 to 2003 was the most important period for my career.
Working with Goran gave better play and results for me. Our Junior National Team had great results in Belford in 2005, and Goran had a great influence in our success.
He told me once, "Boban, you will be a grand master if you follow my instructions. Also, you must be willful." His prediction was right and I am thankful to him. I want to add that Goran is one of our best trainers for sure besides his great experience (as a player and trainer) he has the right approach, which is most important in a trainer's work.
As an example of my words, you may see it by results of his daughter, Jovana. At seventeen years old, became the youngest Woman Grand Master in our region.