o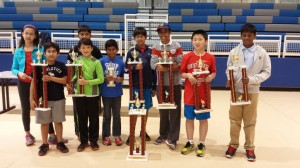 o   This tournament was a sweep for CCL, taking all of the top 6 spots as well as spots 8 – 13.
o   Congratulations to Vikram Srivastava for coming in clear 1st in this event.  In order to do this he had to beat the top 2 seeds in the last two round, Luke Xie and Abhi Ramaswamy.  There is an interesting story here, Vikram won the Ohio Elementary School Championship once, in his last try.  In the last round he was paired against Luke Xie, got a bad game but ended up winning.  In this, his last try at the State Middle School Championship, he won this event for the first time.  Again, he had to play Luke Xie in the last round.  Again, he got a bad game.   Again, he came back to win and win the championship.  When I was in middle school, I asked me teacher why we have to study history.  He said because history tends to repeat itself.  I have already put $100 down on Vikram to beat Luke in the last round of the 2018 Ohio High School Championship to become the State of Ohio High School Championship.
o   Vikram is going to represent Ohio at the Barber tournament while Stella represents Ohio at the All-Girls event, both during the US Open.  Too bad that no CCL player participated in the Ohio HS Championship and thus we do not have a representative at the Denker tournament.
o   Special congrats also go out to Shourjya Ghosh who came in clear 2nd place.  Without checking, Shourjya must be up for the more improved CCL players of the past year.
o   Top 10 CCL finishers were:
1             Vikram Srivastava             5.5
2             Shourjya Ghosh                 5.0
3             Xie, Luke                            4.5
4             Abhi Ramaswamy             4.5
5             Vincent Baker                    4.5
6             Kian Souayvixay                4.5
8             Arvind Prasad                    4.0
9             Nolan Song                         4.0
10           Mark Malkin                       4.0