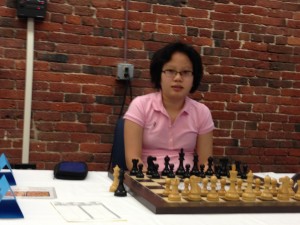 Congratulations to Maggie for tying for 1st at the 2014 US Girls Invitation.  Below is information on both the tournament and Maggie taken from http://relyeachess.com/subpages/closed.html.  There is also coverage on the USCF web site which has one of Maggie's games at http://www.uschess.org/content/view/12736/770/
History
In 1966, the United States Chess Federation started the Boys Closed Championship, which provides the winner a seat into the prestigious US Championship. This year, F. Alex Relyea, FIDE arbiter and Associate National Tournament Director based in Bedford, NH, decided that an equally prestigious event for girls should exist. "There are some amazing young girls playing. We need to have the same prestigious titles for them that we have for boys." He worked with the United States Federation to create and host the inaugural event in New Hampshire. UNH Manchester will provide a $2,500 award renewable up to four years and Relyea Chess will provide a total prize fund of $6,200 with top prize of $2,000 and lowest prize of $200.
From organizer, Alex Relyea: "The quad-champions of the 2014 US Junior Girls Invitational were Claudia Munoz, Apurva Virkud, Maggie Feng, and Akshita Gorti.  Munoz was awarded the scholarship to the University of New Hampshire on tie-break. This tournament was very hard fought, with the lead changing almost every round.  Quad-champions, with two more players just half a point back shows just how tight the tournament was.  Special thanks to the University of New Hampshire for its sponsorship.  All of the players are very nice people, and it was an honor to spend five days with them." 
Maggie Feng
Title: Woman Candidate Master
Rating: 2173
Residence: Ohio
Age: 14
Status: Accepted
I started to play chess when I was 8, and entered my first tournament three months later and won my section. In less than two years, I won my first big chess tournament, the 2010 National All-Girls Championship in 10 & Under Section with 5.5/6 points. My chess successes continued to grow as I gained 600 rating points in two years to become an expert. In the summer of 2012, I got silver in the 2012 Pan-American Championship in Girls U12 Section in Lima, Peru. I was pretty happy about that. My chess started to improve quickly this year and my rating went from 2100-2200 in six months. I become a National Master after 2014 Chicago Open. My next goal is to be over 2300 in USCF rating and play in the US Women's Championship.
I really like chess because it is challenging and fun. Chess requires tactics, strategy, planning, risk-taking, and bravery which makes it a perfect game to play. My favorite chess player is Magnus Carlsen because of his will to win, and he never gives up. Also, in chess, you can make new friendsand meet all kinds of people.
Chess Highlights:
Champion of 2010 National All-Girls in 10 & Under section
Silver Medal of 2012 Pan-American Championship in Girls U12 section
1st place (tie) of 2012 Cincinnati Open in Open section
1st place (tie) of 2014 Pittsburgh Open in Open section