For CCL Graduates!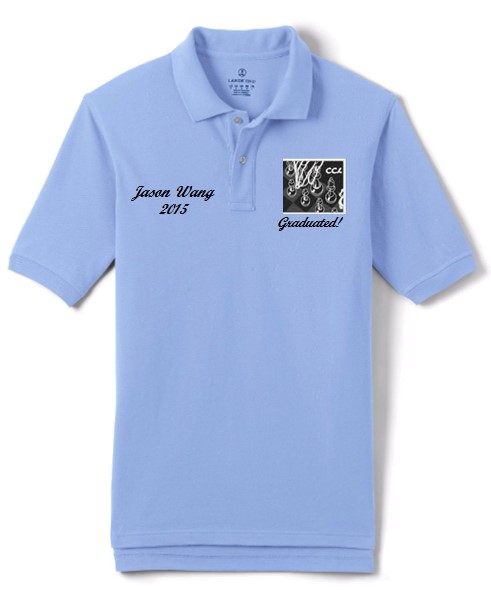 For CCL graduates only: an opportunity to order a CCL graduate polo shirt.  In return you can have a 1-hour chess lesson with anyone in CCL for free.  This is not transferable.  I am  doing this to reward those who still take lessons with us and to get those who have stopped taking lessons to try us again, perhaps with a new coach such as GM Vlatko Bogdanovski. Just let me know after you buy a CCL graduate polo shirt and who you want to take the lesson with and I will update our records.
It will be the style of polo shirt that is in the picture above.
The cost of all of the embroidering  will be around $22 plus the cost of the shirt, plus tax and shipping.  About the cost of a chess lesson.
You will purchase the shirt, with all of the embroidering,  and have it sent directly to you.
When placing your order, call 1-800-338-2000, tell them our customer number which is 6128083 and say that you want the default CCL graduation polo shirt .  You should just need to tell them our customer number but the logo number is 1519634.  Make sure that you remind them that you want the name and date of graduation as displayed above.  The shirts can be ordered in woman, adult, or youth sizes.  The two styles are long sleeve and short sleeve.  Let me know (acasden@insight.rr.com (614)561-2718) if you run into any difficulties.
You should not need the information below but just in case:
Product information:
**If they are ordering with the standard member logo there are no restrictions
**If the customer is calling to order the "Graduate Polo"- The following item numbers are the items that they can order with the "Graduate" Logo applied
For Men- Short Sleeve: 029373N45 in Light Sea Blue or Long Sleeve: 029396CX1 in True Blue
For Women- Short Sleeve: 426566N4X in Light Sea Blue or Long Sleeve: 426574CX1 in True Blue
For Youth- Short Sleeve: 0514694U8 in Blue or Long Sleeve: 051438BP2 in Blue
Logos:
1519634- Graduation Logo
1302819- Standard Member Logo