o   First of all, congratulations to Coach Hans for winning the State Championship (and $1000) this year and keeping it as a CCL tradition for the 4th straight year.  Although this was Han's first state championship he looked like someone who wins it every year.  He took a 1st round bye then won 4 in a row before giving up a 'clinch the tournament' draw in the last round.  From what I could see, he never seemed in trouble throughout the event, playing relaxed and with focus.
o   On a personal note, I had a rough going. I decided not to take morning byes and consequently was paired against CCL players Noah Keating-Adams and Blake Baumgartner on two consecutive mornings.  They both simply outworked me, making me feel like the old man that I am becoming.  I was torn between being disgusted and proud, saddened and happy.  It stinks to lose but there is also an immense joy that I experience when I see how well you are all playing.  I dropped out of the tournament in the last round and watched your games.  I cannot express in words how impressed and blissful I felt watching you play.  You have come so far and you are so young.  So mature beyond your years.  I tried to hold back my smiles, not wanting to appear like a father who thought that their kids were the best 'Sneetches on the Beaches'.   I am so proud of you, and of the excellent coaching staff that we have at CCL.  I doubt that there is anything, anywhere, quite like what we are doing now.  It is an honor to be part of this experience.
o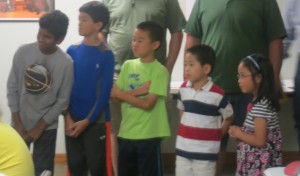 o   They had a ceremony before the last round where they singled out 5 kids as being the future of chess in Ohio.  They were CCL players (l-r) Dakshin Pisini, Vincent Baker, Alan Zhang, Jason Wang, and Emma Cheng.  Chris Shen was wondering why he was not chosen since he is so young and higher rated than anyone else in that group.  That is obvious, it is because Chris is not part of the future of chess in Ohio, he is part of the present!
o   You all played so well that I hate to single out just a few but I will
2014 – 2015 State of Ohio Chess Champion = Coach Hans Multhopp
U – 2000 Clear 2nd place = Abhi Ramaswamy
U-1400 was dominated by the CCL girls:

Clear 1st place = Stella Huang
Clear 2nd place = Emma Cheng
Clear top U-1100 = Victoria Baker

Gained most rating point (143) = Dakshin Pisini
–          The 25 Club
o   Dakshin Pisini              +143    1496    Ohio Chess Congress
o   Emma Cheng              +100    1324    Ohio Chess Congress (2nd Place U-1400 $350)
o   Elton Cao                     +93      1613    Ohio Chess Congress (2-way tie for 3rd place in U-1700 $125)
o   Stella Huang                +75      1429    Ohio Chess Congress (1st Place U-1400 $650)
o   Kevin Wang                 +59      1654    Tennessee Open
o   Austin Yan                   +36      1775    Southwest Open
o   Vikram Srivastava       +35      2037    Ohio Chess Congress (2 way tie for u-2200 money – $225??)
o   Luke Xie                       +33      2095    Ohio Chess Congress
o   Abhi Ramaswamy       +28      2001    Ohio Chess Congress (2nd in U-2000 $500 ??)
o   Sujan Rachuri              +26      1660    Ohio Chess Congress (top U-1700
o   Almost (Alan Z, +19, Victoria +20 (won U-1100 money in U-1400 section $200), Nolan +20, Blake +23, Joshua +23)
o   Noah Keating-Adams  –  (2 way tie for u-2200 money – $225??)
o   Coach Hans – $1000 and title of State of Ohio Chess Champion
[royal cats=5]