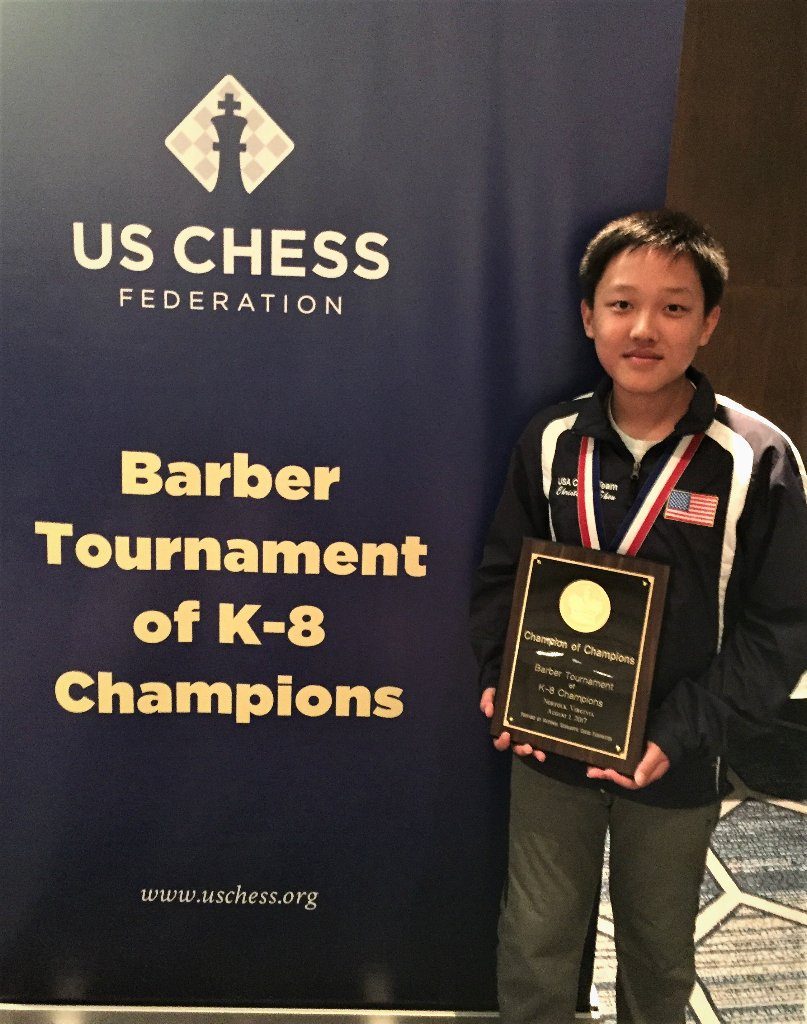 Christopher Shen won the Barber Tournament of K-8 Champions in Norfolk, VA.  This year, the Barber Tournament included 48 players, each representing his or her home state of the United States by winning home state's middle school championship.  After 6 rounds of competition, both top seeds Justin Wang (2330) from Texas and Christopher Shen (2303) from Ohio tied for the first place when Christopher won on tie breaks (see their individual game by CLICKING HERE).  The victory gives Christopher not only the title of National "Champion of Champions" but also $5000 college scholarship donated by the event organizer, Mr. Dewain Barber.  Additionally, the win of Barber tournament qualifies Christopher to play 2018 US Cadet Championship, a 10-top player of U16 round robin competition in the states.
Before this tournament, Christopher and Jason Wang from CCL were selected to participate a week long chess training camp in Bulgaria with the sponsorship from Foundation of Veselin Topalov and Chess Club and Scholastic Center of Saint Louis, USA.  The camp was directed by a Bulgarian GM and former World Champion, GM Veselin Topalov gave simul games to six chess top juniors from the USA.
Finally, Christopher has been invited to play this year's US Cadet Championship in Manchester, NH in the middle of August.  Christopher is a substitute of this year while he will be direct seed of next year's edition also.
Each year, the Denker, Barber, and NGTOC tournaments take place at the same time and place of US Open.  Other CCL members who participated were Meghana Bhanuprasad, Kevin Xu, Vikram Srivastava, and Forest Chen. Meghana played in the National Girls Tournament of Champions and finished in 7th place, defeating Annie Wang (WIM, 2296 USCF rated) in second round.  In the Denker, Forest finished in 15th place and Vikram finished in 24th place.  In the Barber Kevin Xu finished in 21st place.  A strong showing by all of our CCL participants.