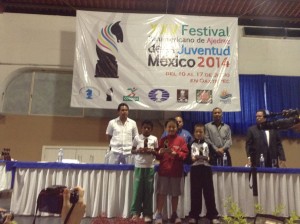 Chris finished with a perfect score, 9-0 in the U-10 open section of 2014 Pan American Chess Festival in Mexico. This perfect result had him finishing a full 1.5 points ahead of 2nd place.  This is his first international championship title, having once finished in 3rd place in the World Youth Championship. He also placed 4th place in blitz (3+2″). There were near 600 players from North, Central, and South America countries, 78 in the U-10 open section. Chris was the top seed in his section and stayed on first board throughout the tournament.
The time control was 90 +30″, slightly different than the world youth but identical to the North American youth championships.  Chris continues to be a strong representative of CCL.
This experience was a challenge as this is an international tournament, where he needs to overcome the language barrier, food and the living conditions in a different country.