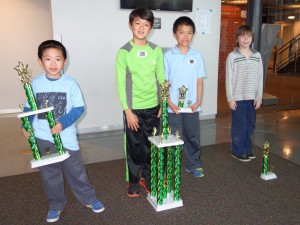 (l-r) Jason, Vincent, Rusty, Ethan
 o   Vincent Baker and 2nd grader Jason 'Mason' Wang are the 2014 Ohio Elementary School Co-Champions
o   Things do not always go as planned but 1st seed Vincent and 2nd seed Jason left little doubt who was in charge in this tournament.  Both players sweep through the field and left everyone in their wake with perfect 5-0 scores.  Vincent won the 1st place trophy on tie-breaks.
o   CCL players with 3.5 or more were:
1             Vincent Baker                    5
2             Jason Wang                       5
5             Ethan Ferkins                    4
8             Viktor Mishkin                  3.5
9             Justin 'Rusty' Wu              3.5
11           Aditya Jambhale                3.5
12           Lainie Massick                  3.5
14           Duke Wang                        3.5
15           Sneha Prabu                      3.5
o   Congrats to Alan Zhang for finishing 4-1 in the K-3 championship and coming in a 2 way tie for 2nd.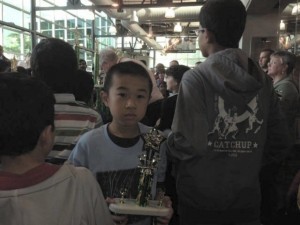 Below is a slideshow of pictures from the tournament.
[royal cats=4]