Many of our CCL players did not participate in this year's grade levels but it did not stop us from winning a Grade Level Championship for every grade that we participated in.  That is grades 2, 3, 4, 5, 6, 7, 8, and 12.  That is a new record for CCL.  The train just never stops and we will try our best not to set any artificial limits on it.  If I had set limits in the past, we would have stopped a while back but without limits we are starting to reach the sky.  You are so amazing, so much more than I could have imagined.
Final results are posted at http://www.ohioscholasticchess.org/2013gradelevelresults.html while ratings can be viewed on our plycount page.
Grade K-1 – no regular CCL players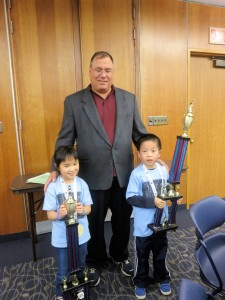 2nd grade – "The little one" Emma and Jason Mason from Wang, Ohio are co-champions (4.5).  They had a wild draw in their individual encounter and beat everyone else.  Emma edged out the 1st place trophy on tie-breaks. Finishing with 4-1 were Viktor M (4th) place and Alan Z (5th place).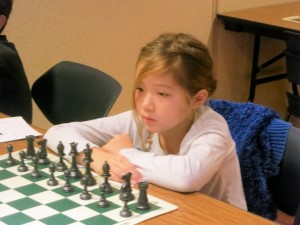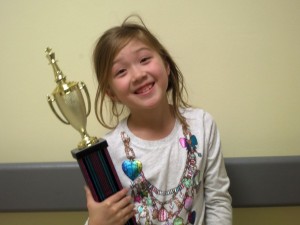 3rd grade – Lainie (4.5) takes home a two-way share of the crown with a 1st place finish.  We are starting to see the girls in CCL moving ever so clearly to the front of the line.  I am so proud of how well our girls are doing in this traditionally male dominated activity.  They are crashing down the walls!  They should be exceptionally proud of themselves.  Let no limiting stereotypes be unturned.
Lainie's pictures are a before and after tournament comparison.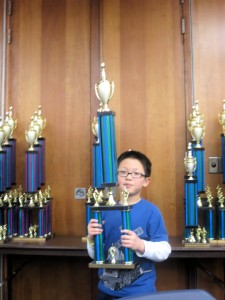 4th grade – Austin swept through the field 5-0 and took home his Grade Level Championship.  Austin was the clear 1st seed in this section, and he left no doubt why that was the case.  Other CCL trophy winners include Soham (4-1 3rd) why in the world is this chess talent rated so low?), Rusty (3.5 5th place), Doc (3.8 8th place).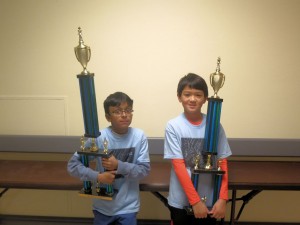 5th place – Arvind SP swept through the 5th grade ranks for a sole title at 5-0.  It was a race between Arvind and Vincent the whole way.  Arvind won their individual contest, leaving Vincent in clear 2nd with a 4-1 score.  The rest of the field laid in their wake.  However, finishing in 4th place with 3.5 points was the exceptionally under rated Aditya.  He like Soham, in grade 4, are going to be soon moving quickly up the ranks.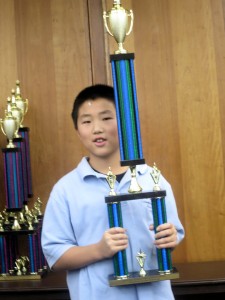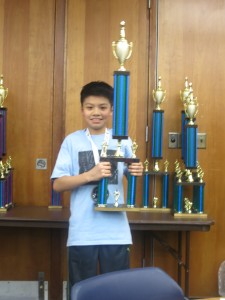 6th grade – Team mates from the same school Luke and Matthew were the top seeds in their grade level.  They were weeding their way through the field, until they met in the last round.  There was no grandmaster draw here but the final result was the same.  Luke and Matthew are the 6th grade co-champions, with Luke taking the nod on tiebreaks for the 1st place trophy.  Following closely in the 4-1 pack were Sujan, Joe, and Kunal. If my memory hold me right, Luke has participated in every grade levels from K-6, earning 1st place 6 times and 2nd place once.  This has to be one of the most dominate Grade Level performances in the history of the grade levels and he can still compete 6 more times!  Now onto the World Youth Championships for Luke.
7th grade – It didn't seem like Anagh (missing picture) broke out a sweat in his sweep of the 7th grade field.  He seem to know something, walking around with a confident swagger that I don't always see in him.  Anagh looks like he might be the next CCL graduate.  With a rating of 1997, he is only 3 points from graduating!  Other CCL trophy winners include Jacob (4-1 4th place), Nolan (3.5 5th place), and Jeremy (3.5 6th place).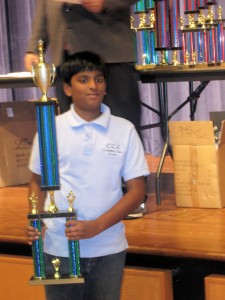 8th grade – Abhi and Vikram were the clear pre-tournament favorites.  Abhi seemed a little more scared than Vikram and in this case, it may have worked the best for Abhi.  Vikram beat himself one round, having just come off of a super King's Island tournament and being up a pawn and piece against a much lower rated player, Vikram might have turned on auto-pilot too soon and crashed into the side of the mountain.  Abhi methodically seem to take little chances and cranked out 5 wins.  Mark (a surprise to some but not me.  Both Mark and his partner-in-crime Kian have been really coming on of late) came in 2nd place with a 4-1 score, only losing to Abhi.  Vikram finished in 4th with his 4-1 score.
9th – 11th – No CCL players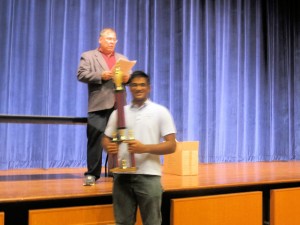 12th place – Our lone CCLian at 12th grade was Rahul and he did not disappoint, going 4-0 before agreeing to a short last round draw and becoming part of a 2-way co-championship.  Rahul has finished his HS career strongly at the grade levels.  I believe that he has been his grade level champion now for 3 of the last 4 years.