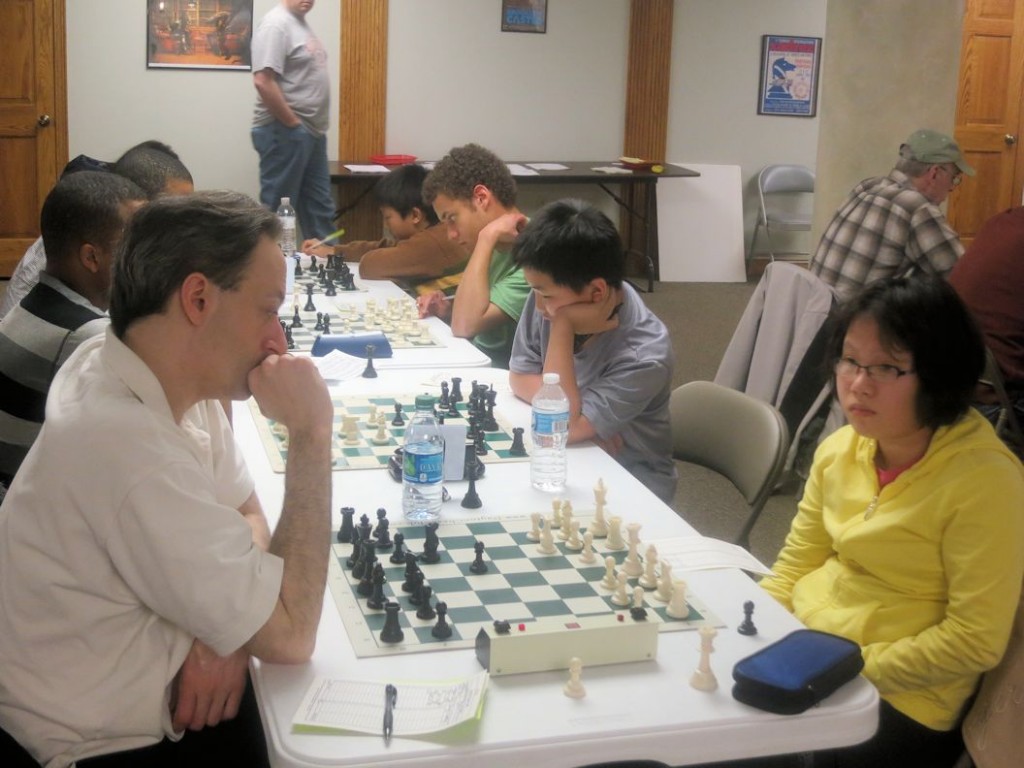 For the 2nd year in a row, CCL wins the Midwest Open Team Chess Festival.  This year's team (CCL has Alekhine's gun!) was composed of:
Board 1 – Maggie Feng – 7th grade
Board 2 – Luke Xie – 6th grade
Board 3 – Noah Keating Adams – the old man, a college freshman
Board 4 – Chris Shen – 4th grade
An incredible group of very young strong chess players.  Maggie and Luke were also members of last year's MOTCF winning CCL team. This tournament brings out the strongest adult chess teams throughout Ohio.   In the last round, they demolished the top seeded team in the tournament 3.5 – 0.5.   To see our young CCL players win this event as they have done at most of the major adult tournaments (ie. last 3 State of Ohio championships, Cardinal Open, FIDE Invitationals, etc.) it is clear that a changing of the guards has taken place.  I have been playing chess in Ohio for the past 45 years, and there would only be the isolated scholastic player who would sometimes compete with the top adults of our state.  Never has there been this type of dominance by such incredibly young chess players, over the seasoned adult masters of Ohio.  I keep thinking that each occurrence is an isolated phenomena but the long trail of successes has shown that this is a real transformation of the base of chess power in Ohio.  It is amazing to be part of this piece of magic.
CCL proudly sent 7 teams to MOTCF.  This is a very strong tournament but many of you were up for the challenge, including my team that had 2nd graders on boards 2, 3, and 4.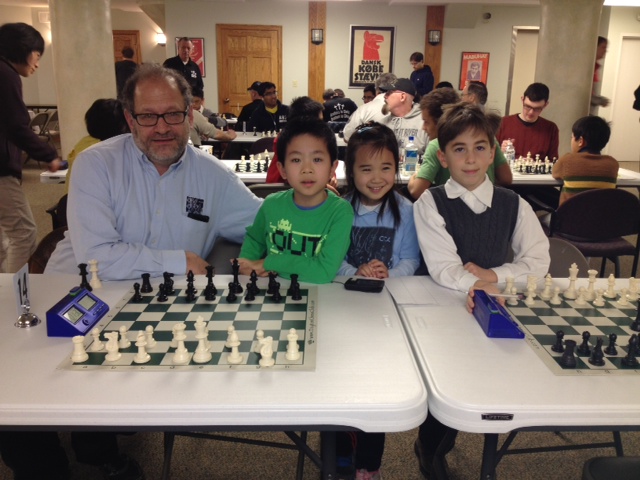 Our money winners were:
Team prizes:
Open Section – The team of "CCL Has Alekhine's Gun" (Maggie, Luke, Noah and Chris)  got 4.5 points to won clear first.
U1600 – Two CCL teams (CCL4 – Sujan, Cody, Joe and Kunal and CCL6 – Anagh, Arvind, Dakshin, Justin and Aditya) got 2.0 points to be part of a 4-way tie for top U-1600 team
Board prizes:
Board 1 – Coach Alan – clear first at 4.5 points.
Board 2 – Luke and Blake were part of a three way tie at 4.5
Board 3 – Leo Zamansky got 4.0 points for a 1st place finish. He was from Coach Hans' team – Mulligan Chess Club – Cincinnati
Board 4 – Chris got a perfect 5.0 score and clear first.
I am very proud of all of you but especially proud of Joe Kleban.   Joe was playing Abhi in the last round.  It was a very tough battle but at the end of the game, Abhi had an easily won position and lost on time.  However, it was Joe's clock and he forgot to set the 5 second delay.  Abhi just noticed this as he ran out of time.  If the 5-second delay was on, Abhi would have easily won the game.  The TD made the decision that since Abhi make his claim about there being no delay after his time had expired that Joe is granted the win.  Although this is the correct legal decision, it is probably not the correct ethical decision.  This is what Joe felt, even though the TD had awarded the win to Joe.  Joe then offered Abhi a draw, feeling that it was the ethically correct thing to do.  When something like this happens, I cannot but beam with respect for our young players.  By far, the most amazing move played by anyone at the 2014 MOTCF.
[royal cats=3]