As always we dominated in a scholastic event.  This tournament was designed more for the next generation of super heroes, than the present.  One of the strategies at this tournament was to develop a 'hit squad', we picked the 4 people that looked the scariest to walk around the tournament to intimidate our opponents, the 2nd graders!
The Hit Squad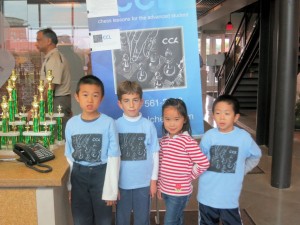 Alan, Viktor, Emma, and Jason
Jeremy sweep the field in the Open section, with a 4-0 score.  Stella (3rd), Josh (5th), Mark (6th) and Vincent (7th) all had 3-1 scores.  CCL was the 1st place team.
In the U-900 division, Soham finished in clear 2nd place with a 4-1 score.  Abby, a last round win away from taking clear 1st place finished in 5th place with a 3.5 score.  CCL was the 1st place team.
All of the pictures from the event can be seen at https://cclchess.com/2013-clover-challenge/
–        Cincinnati Scholastic Chess Series
Lainie won the November league of the Cincinnati Scholastic Chess Series. She tied with Victor L and two others with a 3-1 score but took home the 1st place trophy on tiebreaks.