Going into the 2013 Ohio Elementary School Championship, I thought that CCL might have been at risk.  None of our top 7 CCL K-6 players had entered the tournament, with the top 2 seeds being non CCL players.  I signaled the SOS and that masked man with his silver bullets, Dukie, came to the rescue.  As it turned out Dukie could have stayed home eating fries with Tonto as the other CCLers quickly removed all threat of competition.
The number two seed (1745) lost to Vincent and gave up a draw to Arvi K.  While the number 3 seed lost to Jeremy while drawing Ethan and Sophie.  CCL ended up winning 10 of the 11 individual trophies and all 3 team trophies (teams where most of the players are CCL players).  It doesn't get much cleaner than that.
I knew that the flowers were going to smell sweet when I went into the playing hall before the last round and only saw CCL players on both sides of the top 5 boards.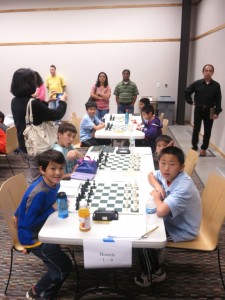 Clear first play with a perfect 5-0 was my hero of the day, Luke.
Clear 2nd place with 4.5 was the quickly improving Ethan
Finishing with 4-1 were: Matthew, Vincent (with just a loss to Luke), Sujan (with just a loss to Luke), and Stella.
Finishing with 3.5 – 1.5 were: Joe, Arvi, Jeremy, and Kunal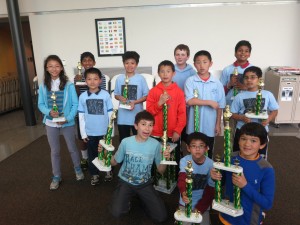 Cody Y won the K-3 section with 4.5 points.  Emma came in 4th with 4 points and Doc came in 7th with 3.5 points.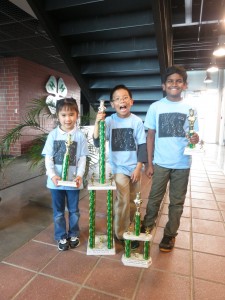 We only had one player in the U-700.  It was that low rated player that I just let into CCL and told you he is pretty good and may shock you all in a couple of years.  Well, let my words start to ring clearly as Alan came in clear second place and gained 185 rating points.