For the third year in a row, a CCL student won the title of State of Ohio Chess Champion.  This year it was won by a student who is starting to come into his own as a dangerous player at ANY LEVEL, John Hughes.  There ended up being a 4-way tie with the co-champions being: John Hughes, Calvin Blocker, Bill Wright, and Oliver Koo.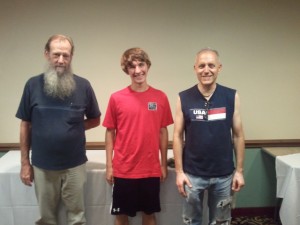 Figure 1 –  l) TD Joe Yun  then co-champions John Hughes and Calvin Blocker
Whenever we go to these major tournaments, you represent CCL well but sometimes you really shine.  At the 2013 Ohio Chess Congress you really shined.  I am a little tired today so I am just going to lay the results down that I have (some details are unknown to me):
Open:
John Hughes – State of Ohio Chess Champion  $$$$$
U-2000:
Anagh    – Tied for first     +23        1922      $$$$$ – Anagh put 4 positive tournaments in a row together, driving his rating from 1801 – 1922
U-1700:
Stanley and Arvind SP      2-way tie for 1st   $494.40 each
Austin tied for 4th – 5th   +23          1690
Dakshin – Won upset prize $50, and his opponent was upset!
U-1400:
Won by pseudo-CCL player, Daniel Zhang (Cody Yang's older brother)
Lainie – Clear 2nd   $$$$$
Jeremy – Clear 3rd $$$$$
Viktor – won $50 upset prize and got U-1100 class money $$$$$
The kids are taking over the world!