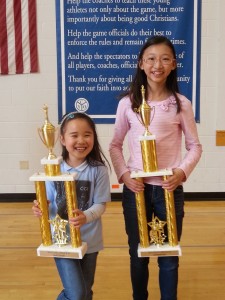 In the Ohio All-Girls Championship, 4 CCL girls (Stella, Emma, Victoria, Sneha) where on the top 2 boards going into the last round.  When the dust settled Stella and Emma finished on top as co-champions with 4-1 scores, while Victoria finished in a tie for 3rd place with Abby (Abhirami).  Abby was our big point gainer at +57.  Tie-breaks, along with the 1st place trophy, $100 scholarship, and invitation to the National Girls Championship went to Stella.  I am pretty certain that Emma is the youngest All-Girls champion in the history of Ohio.  Don't let the young age of these girls fool you, this is a K-12 event.  The CCL girls have now fully arrived as the dominate force in girls chess in Ohio.
Maggie and Lainie tried their luck at the Cinci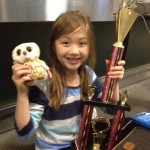 nnati Open and the National All Girls (Chicago) respectively, being held the same weekend.  Maggie performed well in the Open section of the Cincinnati Open while Lainie came in 8th place in the U-10 division at the National All-Girls.